Trade shows and exhibitions are a great way for companies to showcase their products, meet potential customers and connect with industry experts. However, exhibiting at a trade fair can be overwhelming, especially for first-timers. In this blog post, we'll provide some tips for companies exhibiting at trade shows or exhibitions, from marketing and navigating the exhibition centre to following exhibiting guidelines and using the facilities.
Step 1. Plan your marketing strategy
Before the event, make sure you have a solid marketing strategy in place. Setting out your marketing tactics before the event can be the difference between making a lot of sales or not gaining much interest in your stall at all. This might include designing promotional materials such as flyers, brochures and business cards that you can distribute to attendees who visit your stall. You should also create an email marketing campaign to send out to your existing customers and prospects, inviting them to visit you at the exhibition.
Social media is another powerful marketing tool that you can use to promote your brand before, during and after the trade show. Share updates about your products, booth location and any special promotions you're offering. Make sure to use the official trade show hashtag to increase your visibility and reach. 
It is also important that you follow up with those who have engaged with you at the exhibition hall during the event. If you have gained followers or added visitors to your email list, then be sure to provide engaging content that will keep them interested and interacting with the brand. This is your best chance to make sales in the days and weeks following the exhibition. 
Step 2. Familiarise yourself with the venue
Venue navigation is a key part of taking part in an exhibition. Once you arrive at the venue, take some time to familiarise yourself with the layout. Make note of where the restrooms, food and refreshments are located. This will save you time later on and means that you can avoid being away from your display stand for too long while there are potential customers around. 
Find out where the loading and unloading docks are as well, so you can quickly and easily transport your products to your booth. It's also important to know where the emergency exits are located in case of any unfortunate events that require evacuation.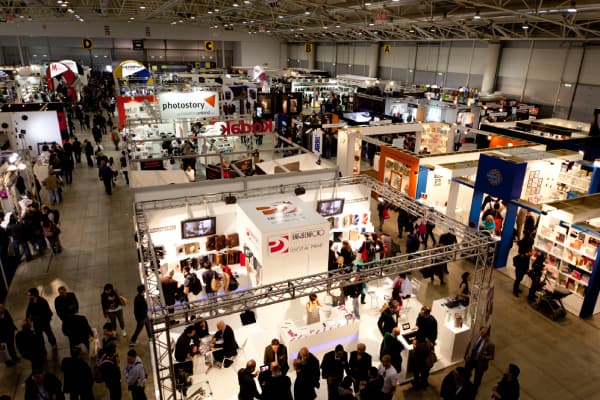 Step 3. Follow exhibition guidelines
Most trade shows or exhibitions have specific guidelines and regulations that exhibitors must follow. These exhibition guidelines can include restrictions on the size of your booth, the type of signage you can use and the materials you can distribute. Make sure to carefully read and follow the rules and regulations set by the trade show organisers to avoid any penalties or fines.
This is an important factor to take into account before you start to plan your marketing strategy, as you don't want to waste time and money creating handouts or display items that you cannot actually use at the event.
Step 4. Utilise the facilities
The average trade show venue usually provides a range of facilities and amenities that exhibitors can use. These can include lounges, charging stations and Wi-Fi access. Take advantage of these exhibition facilities to make your time at the trade show more comfortable and productive.
You could utilise the internet, for example, to show clients videos of your product or service, or to show off your social media accounts, encouraging them to follow and interact with your brand. Charging stations can help you to ensure all devices are fully utilised throughout the day and mean you don't have to waste time or space setting up your own charging cables. 
Step 5. Engage with attendees
Finally, the key to success at a trade show is to engage with attendees. Make sure to have knowledgeable staff members at your booth who can answer questions and provide information about your products. Gage how they are responding and try to keep your pitch interesting and exciting. 
Offer free samples or demonstrations to entice attendees to stop by your booth and use interactive displays and games to keep attendees engaged and interested. There is also some merit to recognising when you have lost a client or if you are talking to somebody who is not invested. If there is lots of interest, then don't waste time talking to somebody who clearly has no intention of using your product or service. 
Whether you are completely new to trade shows or you have little experience and want to know more, it's always worth getting some extra help and advice before you go. So, be sure to explore our exhibition design blog further or get in touch if you have any questions.