Commercial interior design
is an essential consideration when it comes to creating the right atmosphere in your business space. Whether it's office design, hospitality design or retail design, you need to pay close attention to the interior style of the space, especially if you're hoping to make a good impression.
Creating a calm, welcoming and inspiring space is essential, which is where good design comes in. Commercial design trends and practices can be used to create dynamic spaces for businesses, so read on to find out more about the design elements and approaches that could take your company to the next level.
Your colour scheme is one of the most important parts of designing your office or business space. Calm colours including pastels and muted shades are often chosen in commercial settings to promote a sense of tranquillity. They also never really go out of style, so they're great for navigating the different trends that come and go. However, the colours you choose should still reflect your brand or industry, so don't stray too far from your existing scheme.

Another factor to consider here is psychology. Shades like forest green and pale grey are generally a good choice for restaurants, hotels or other venues where people will spend extended periods of time as they promote a relaxed feeling. If your space needs an element of passion or excitement, like a gym or conference room, reds and oranges are a good idea to bring some energy to the space.
Your space needs both functional and decorative accessories to achieve your desired effect. More functional accessories include items like lamps and waste bins – things that a commercial space requires in order for the public to use it successfully. However, you also want the space to have a hint of personality, which is where decorative accessories like prints, paintings, pictures and sculptures come in.

A building like a hospital or a restaurant generally requires more decorative accessories, as people are likely to spend a lot of time there waiting. The décor should also be calming and relaxing so that the space operates as intended. Other areas, like offices, may have a stronger focus on functional accessories as the space needs to be conducive to increasing productivity and improving performance.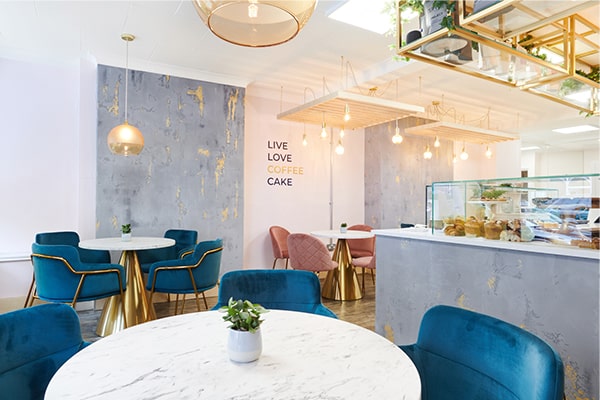 There are a lot of factors that go into choosing furniture for a commercial space. Some of the things you need to consider include fire safety, weight capacity, abrasion resistance, crocking, colourfastness to light and maintenance. Of course, in public spaces, safety should come first, but after this, you need to think about the comfort of the users and the process of looking after and maintaining the pieces. Sustainability should also be a consideration so if possible source ethically produced high quality furniture that will last a long time.

You also want the furniture you choose to complement the style of your interior design. If it's too much of a contrast, it will negatively impact the feel of your space.
While layout may not be the first thing that comes to mind when you think of commercial interior design, it's a key factor in improving the efficiency and accessibility of your space, which are both hugely important to a business. In an area that is open to the public and is often busy, safety should be a priority.
Need help with your interior decoration?
There are a lot of factors that come into play when designing the ideal space for your business, and it can be tough to work out what is best for you. To create a purposeful and driven area that aligns with your branding and is conducive to your business endeavours,
get in touch
with us at Creative Spaces.
We're a young, dynamic creative agency that specialises in sustainable exhibition stands, events, commercial interior design and branding. We work with businesses to style interiors in a way that suits their specific company and space, and all our design is done in-house to this effect. Our products are all sustainable and reusable too, and we also contribute
1% of profits to the planet charity
. So, if you are looking for interior design that works for your business, make sure to get in touch with us today.